Letterbox Liquorice - Delivering the World's Best Liquorice
We are Letterbox Liquorice.
For many, Liquorice is just black liquorice wheels or liquorice allsorts. For us, at Letterbox Liquorice, it is so much much more. We are dedicated to supplying our customers with the best liquorice at competitive prices from all around the world. Enjoy!
new for 2023 - Advent calendar
12 days liquorice !
Dutch Gourmet Liquorice Advent Calendar -
12 Days of Christmas 
Get ready to indulge in the ultimate Christmas treat with this Dutch Gourmet Liquorice Advent Calendar. Featuring 12 delicious days of Dutch liquorice, each day promises a new flavour and a new experience.
click to see more
Bespoke Personalisation
Professionally Printed
Our giftboxes come with free personalisation. Our labels are printed with your special message to add that unique touch to a unique gift.
click here to choose your box
Your Box, Your Choice
BUILD YOUR OWN BOX
Craft a one-of-a-kind gift box by cherry-picking from a mix of our scrumptious liquorice varieties. Our liquorice is sealed tight in food-safe bags before being tucked into a bespoke, personalised gift box, tailor-made just for you.
click here to choose your liquorice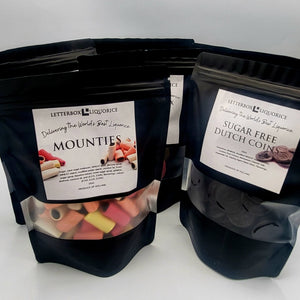 NEW RE-SEAL POUCHES
All our loose liquorice now comes to you in handy re-seal pouches with product info and ingredients.
see our new range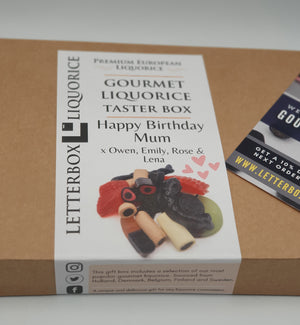 Getting Personal
Unique, Bespoke and personalised just for you. Your message printed directly onto the box label.
What our Customers are saying about Letterbox Liquorice
★★★★★

Great company, delicious liquorice and a huge selection. Prompt despatch & delivery too!

Isobel Grace Morris
★★★★★

Great service as usual! Taster box was well worth the money. Normally do pick your own but like the variety in the box. Trying to make it last but just so delicious and addictive.

Jill
★★★★★

Excellent assortment of liquorice in the subscription box as always. Bought as a birthday present who was over the moon to find out he will be receiving another 2 boxes.

Angela Kenny
★★★★★

A beautiful gift box for my mumA beautiful gift box for my mum, she loved it! Delivered when promised and looked fantastic. I will use Letterboxliquorice again

Alan
★★★★★

I have so far gifted items from this store 3 times and on each occasion, the recipient has loved the products. Shipping and presentation have been good too

Author's name

Simon D
★★★★★

Add customer reviews and testimonials to showcase your store's happy customers.

Author's name

Los Angeles, CA
New for Christmas
Build your own hamper
Choose from our range of liquorice themed products from Toothpaste and Lip balm to our delicious hand made fudge!
Fill your hamper here
Our Partners